Continuous Backup Solution for Home and Business
Every Home and Business should be thinking about how best to protect their data against machine failure or even loss of premises. The Connect and Support Continuous Back-up solution is built around industry standard software and hardware to provide you with complete peace of mind. Should the worst happen, we will be able to have you back up and running within a day depending on the package chosen. If you just want to be sure that your family photos are safe then that is fine too – our backup solution is fully scaleable so you can save as little or as much data as you like.
Headline Features of our Backup Solution
Continuous backup of your data to our secure Data Centre

Easy to set-up and monitor

Work with PC, Mac and Linux systems

You can restore your data to any computer

Unlike some solutions, this one has a small footprint and does not slow your computer down

Completely safe from hackers because data is transmitted as 256bit – the same as your on-line banking

Data is also encrypted to 448bits which is double the conventional military standard

The encryption is based around a secure password chosen by you
Costs
Business User
up to 500GB of data (for more than 500GB please call for a quote)
iPhone/iPad/Android and web access to data if needed.
Up to three devices per account.
(minimum contract 1 year)
Home User
up to 100GB
additional 100GB £10 per month
iPhone/iPad/Android and web access to data if needed
(minimum contract 6 months)
The Software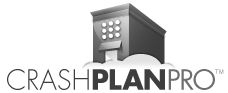 Our hosted CrashPlan PROe service provides continuous protection for your data, with out getting in the way or slowing down your computer.
The software constantly monitors your system and uploads just the changes you make. IN fact it just uploads the parts of the files you change to really minimise the amount of overhead.
It's completely cross platform so works with all your PC, Mac and Linux systems.
It's very easy to set-up and manage your backup strategy and we're always happy to assist with this. Once set up, the system is automatic and requires no user intervention.
The recovery process is just as simple, data can be restored via your computer, a web browser, or a replacement computer is necessary.
CrashPlan also make's it very easy to migrate to a new computer or switch between a PC and a Mac or back again.
The Hardware
Your data is stored on fully Raid protected equipment.
The servers are backed up to a second location that will take over if their is a major issue at the Data Centre.
We have access to on-site 24hrs support. And we ourselves can be on site in 25 minutes if needed to provide an even quicker restore service.
The Data Centre
Our Equipment is located in a modern Data Centre located just inside the M25, which has direct connections to the key internet hubs in London, mainland Europe and the USA.
The data centre is also used by other major internet programme providers who trust the 24-hour security it provides. All our equipment is locked inside cages that only we have access to.
The Data Centre provides the following:
Access, security and remote hands 24 x 7 x 365
100% uptime SLA on power
99.999% uptime SLA on network